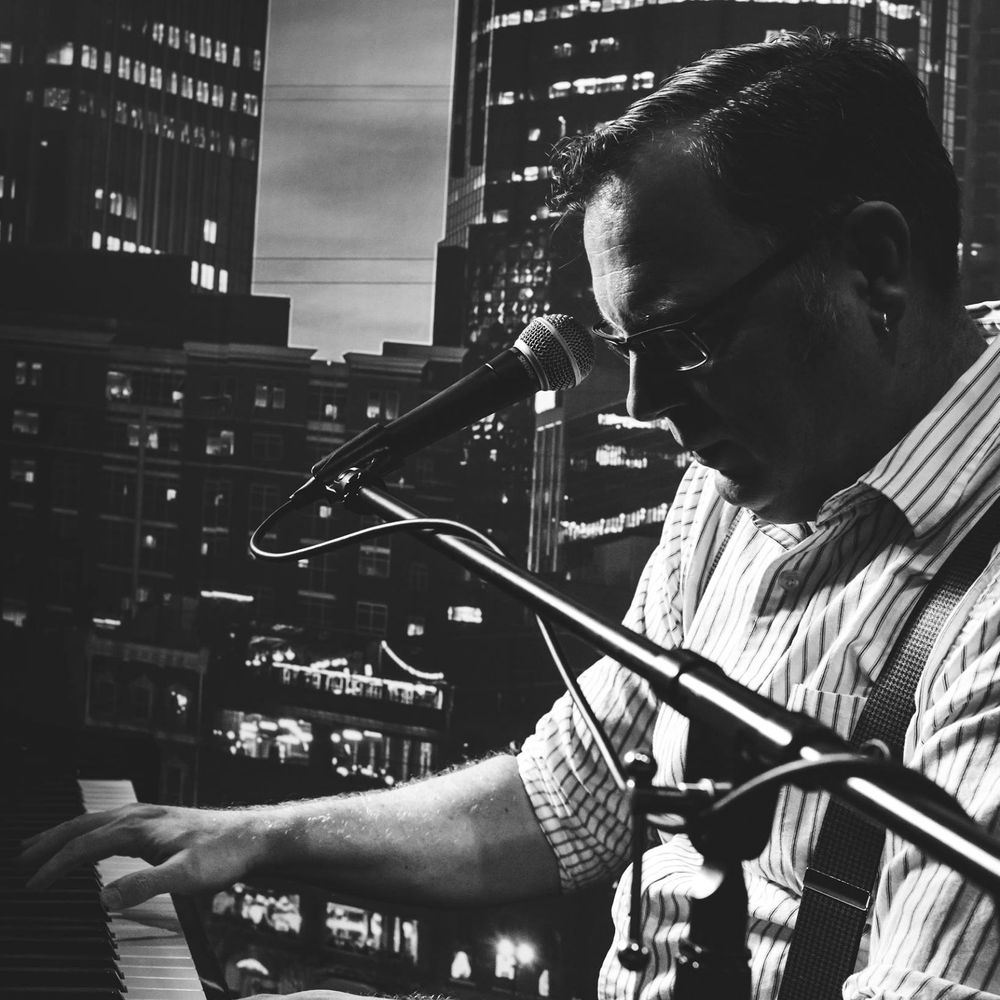 I am a music nerd deeply enamored with the songwriters and musicians of the early 20th Century. I take great pleasure in using my piano and my voice to spread the good time gospel of ragtime, boogie woogie, jazz, and blues.
I started down this path on a sunny September day in 1976; Rocky was on movie screens, K.C. and the Sunshine Band's Shake Your Booty was on radios, and Stretch Armstrong was on every Christmas wish list. Nadia Comaneci scored perfect 10s at the Olympics that summer and I was, coincidentally, 10 years old.  I came home from school that afternoon and there it was, something that had not been in our living room that morning (cue spot light and angel chorus): a Story & Clark spinet piano. I commenced right then and there to wearing that thing out; I think if I keep practicing, I just may get the hang of it.Over the past 40-something years I have played music in 44 of the United States, Ontario and Quebec in Canada, and even Paris, France. I have been blessed to share stages and recording studios with some incredibly talented people. Here are some of the highlights:
EDUCATION
Studied piano with Dr. David McKamie at Northeast Missouri State University 1984-1986 (now Truman State University).
Studied piano with Neil Olmstead and Mike Mara at Berklee College of Music, Bachelor's of Music 1990
PROFESSIONAL EXPERIENCE
The Gene Haffner Trio, 1997-2000:  Straight ahead jazz piano trio with Tom Larson on drums and John Owen on bass, preforming for various venues and private functions around Nashville, TN.
Scott Holt Band, 2000-2002:  keyboards and background vocals for Scott Holt Band, a high-energy electric blues group touring extensively across the United States and Canada.
The Dean Martinis, 2003-2018:  pianist, vocalist, and arranger for The Dean Martinis, playing a heady brew of jump blues and traditional jazz.
DISCOGRAPHY
Night Crawlin' - Road Runners, Appaloosa Records, 1997
"Blues for Alice" from The Music of F. Scott's - Landlocked Records, 1999
Off The Cuff - Tom Larson, Karma King Records, 1999
Warm Water - Brian Fechino, 2000
Angels in Exile - Scott Holt Band, Blue Storm Music, 2001
Chipped Front Tooth - Scott Holt Band, Lightyear, 2003
"We Once Knew" and "One Love" from These Things Matter - John Erlandson, JohnnyEddyMusic, 2006
"Cool Yule" from Yuletide from the Other Side, Red Beet Records, 2007
The Dean Martinis - The Dean Martinis, 2010
Lucky Number - Silly Grandpa, 2019
Reach For The Water - Geno Haffner, 2022
El Bull - The Lilliston Effect, 2022